SwissBorg ICO – The New Era of Swiss Private Banking with Smart Contracts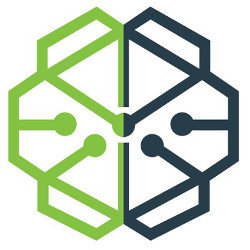 SwissBorg is a decentralized banking backbone built around community-centric values. Individuals and organisations benefit from democratic, transparent investment services to manage their crypto-wealth. Investment managers and financial advisors benefit from crypto asset classes and the best-of-breed technologies to better serve their clients. SwissBorg combines their MAST philosophy (Meritocracy, Accessibility, Swiss-made and Trust) and CADO business practices (Customization, Automation, Decentralisation and Optimisation) to deliver outstanding wealth management services.
The SwissBorg project aims to revolutionize wealth management solutions with a community centric approach powered by Ethereum Blockchain.  Each member of the community will be given the opportunity to contribute to the development of SwissBorg and up to 10% of its revenues will be distributed fairly to contributors.
SwissBorg ICO – The Opportunity
Through robotics, automation, self-learning algorithms and decentralization, digitalisation is disrupting financial services' business model by significantly reducing costs and immensely driving market-share gains through digital acquisition of clients. Today, investors want more personal, real-time experience delivered at a fair price. Financial services companies must design a financial backbone for Generation X and Millennials who will control over half of all investable assets (US$30 trillion) by 2020. Most importantly, 70% of this demographic do not have access to wealth management solutions. Customers are challenging wealth management fees paid for performance and services they receive. A more client-centric community-based approach is needed.
Traditionally, private bankers simply gather information from clients while adding very little customization. It is time for wealth management to reassess the level of expertise and creativity they bring to their clients. By supporting Investment Managers, SwissBorg provides a leaner approach, creating a lower fee and margin environment.
SwissBorg ICO – The Solution
Imagine a bank that offers best of breed Financial Advisory services and investment solutions available to everyone with no frontiers or restrictions. A bank, where you can safely store & manage your crypto assets gaining access to crypto asset services: from asset tokenization to derivatives and an exchange. A bank, tailored to anyone from individuals to Decentralised Autonomous Organisations (DAOs) with no minimum deposit. A new paradigm, where Financial Advisor & Investment Manager deliver their added value with no filter and in full transparency of the community.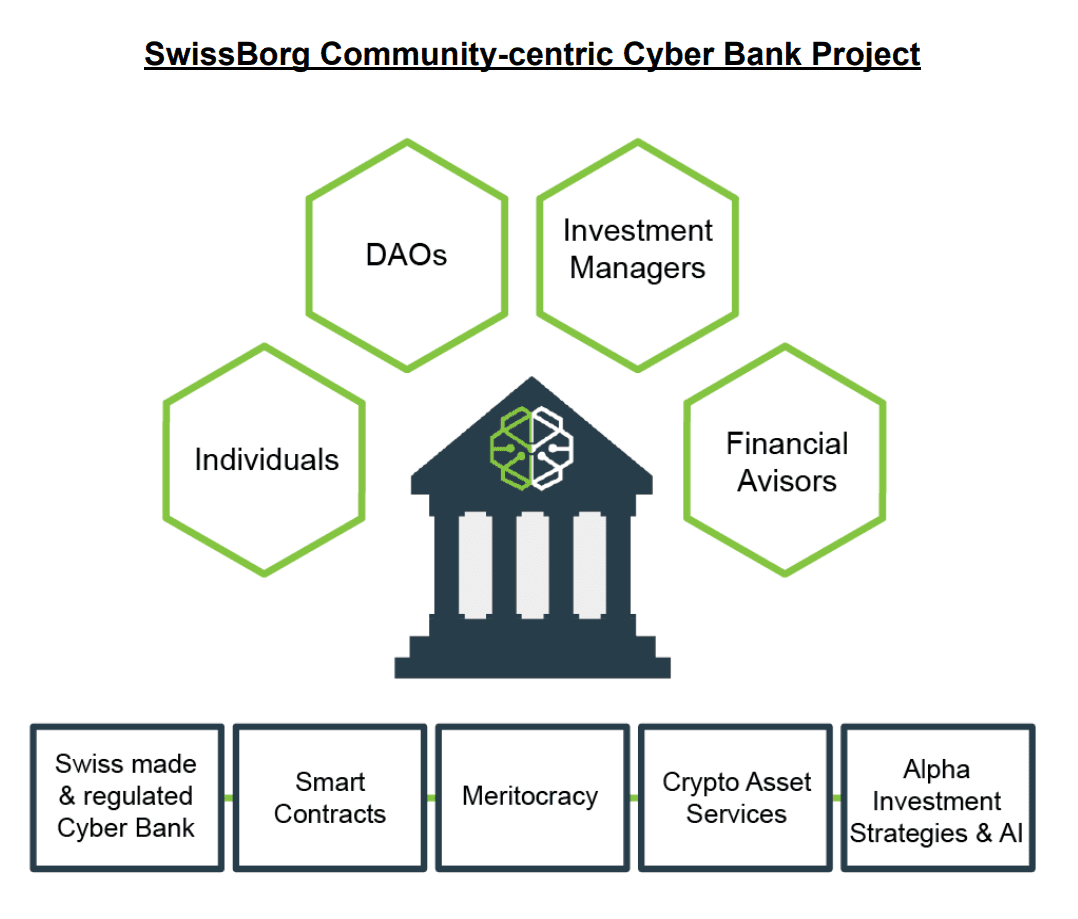 Financial Advisors have historically been at the centre stage of wealth management, acting as an interpreter by translating the client's financial needs into investments solutions. Regulation and automation are changing the way clients invest, store, move, and monitor money and assets. Using the latest technologies in terms of AI and leveraging on the MAST (meritocracy, accessibility, Swiss made and trusted) philosophy, SwissBorg intended to fill the financial advice gap. Since 2015, SwissBorg has been building the next generation of Robo-Advisor by using AI in wealth management, with models crafted by our experienced Hedge Funds Managers.
By extending our AI Robo-Advisor model to cryptocurrencies, SwissBorg will empower investors with more control and freedom of choice in trading activities and risk management.
Blockchain technology is often associated with financial disruption; however, financial advisory remains an unexplored topic in the distributed ledger world. At SwissBorg, Advisory is key to the success of an investment strategy.
An investment mandate links a financial advisor with an investor under a legal framework. The mandate defines a general philosophy and a list of restrictions about how the financial advisor can invest the investor's pool of capital.
For comparison, an investment mandate, is similar to a custom "permissioned" private key allowing a third party to interact with a 'wallet' following a set of predefined rules; however most lack client-centric initiatives.  SwissBorg's experienced investment team of asset managers, private bankers and financial advisors have explored the limitations observed in the off-chain world and combining their experiences with the smart contract technology to build a holistic framework for Advisory: the "Smart Mandate."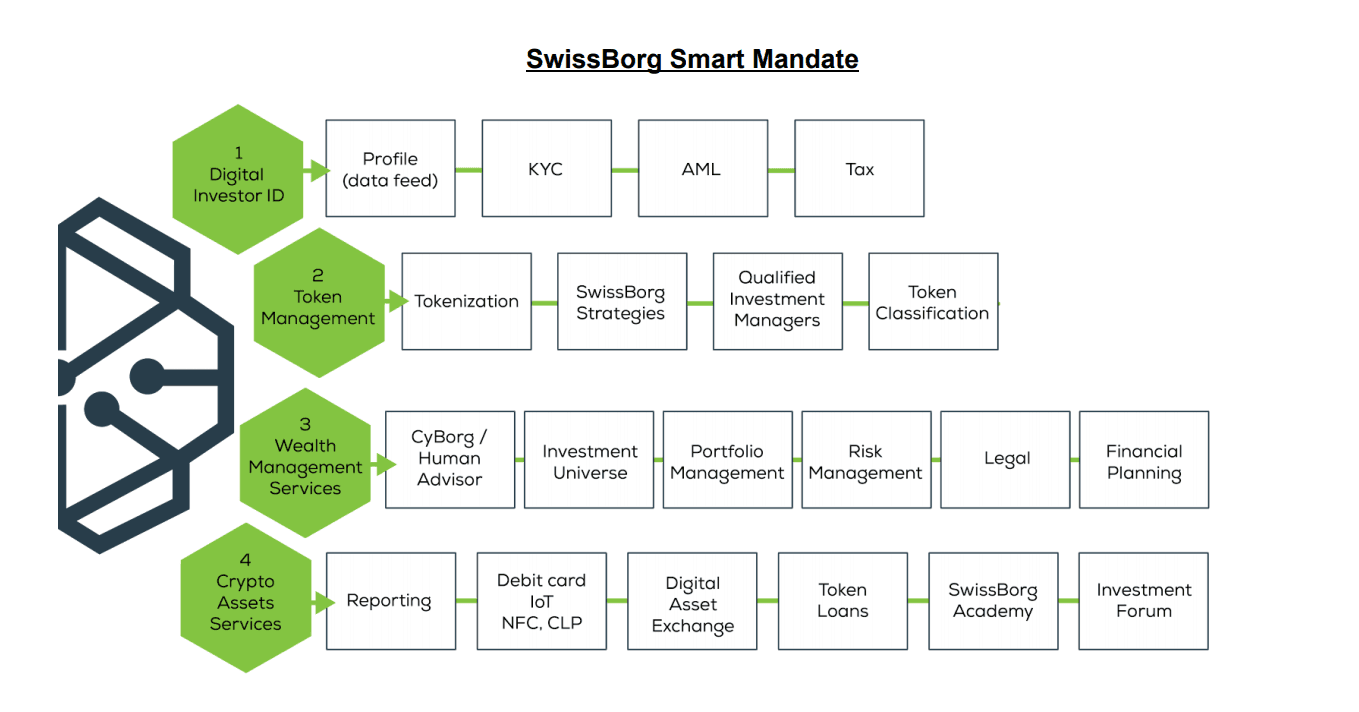 SwissBorg's smart mandate is an investment mandate powered by Ethereum Blockchain technology, combing cryptography and digitalisation to allow accessibility and customer customisation.  The Smart Mandate has four key components:
Digital Investor ID: achieving regulatory and tax compliance including KYC and AML requirements digitally.
Token Management: Through the tokenisation process, SwissBorg will help clients create their own investment vehicles and transfer investments strategies or real assets onto the blockchain. Each token will be classified by asset class, strategy, purpose and risk level. SwissBorg will offer several theme-based strategies with discretionary management.  It will cover the entire investment universe (Crypto, Equities, Credit, Commodities, Real-Estate, Art).
Wealth Management Services: SwissBorg will offer real customisation and scalability. The CyBorg Advisor will act as the interface that determines the investment service to be provided by the Smart Mandate, based on the client's Digital Investor ID and our token classification.
Crypto Asset Services: SwissBorg will offer a holistic, one stop solution and optimised fees. Their platform will enable the exchange of digital currencies against fiat currencies as well as trading of any pair of digital currencies.  SwissBorg will also offer loans where clients can borrow digital or fiat currencies again their holdings as well as offer Crypto debit cards and the latest e-payment solutions with IoT.  SwissBorg will facilitate the creation and the liquidity management of derivative products which will be created as pre-programmed smart contracts.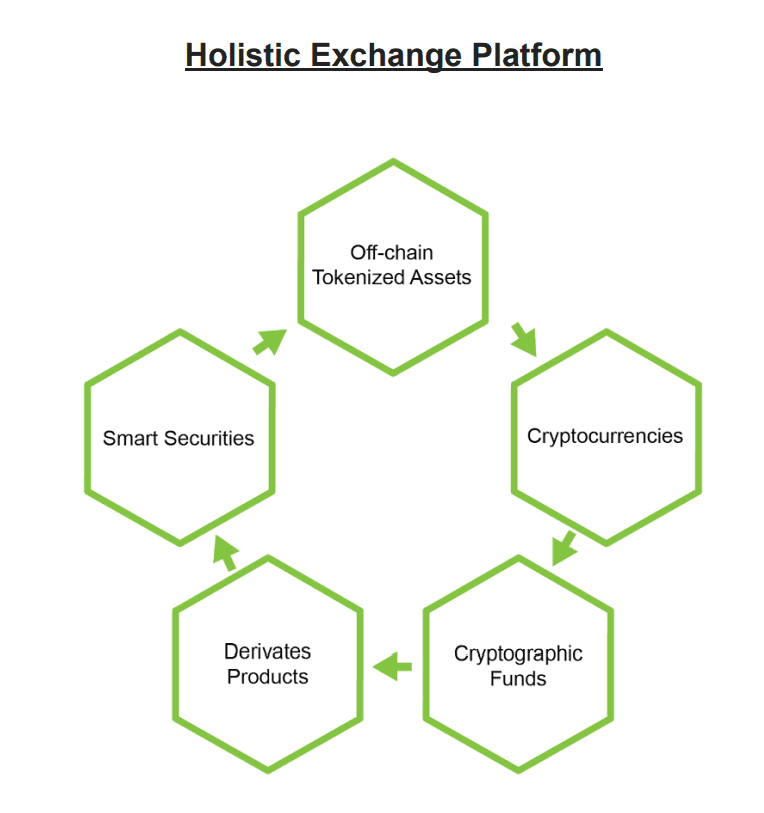 The combination of cryptography and digitalization allow more accessibility and customization. Each customer will own a 100% customizable smart mandate, allowing a transparent access to investment services and financial advisors worldwide. A suite of additional services will be available to enhance portfolios overall performances.
Because Blockchain enables direct and irrevocable transactions between counterparties, with an almost immediate transfer of funds, and this could enable near real-time settlement for almost any financial transaction. SwissBorg Cryptographic Dashboard would enable financial advisors and investors to track and manage the state of their digital assets in real time.
In a Blockchain-based system, regulators could also have a real-time view of what is transacting at all times through the distributed ledger. Their aim is to work hand in hand with regulators to put in place the first regulatory cryptographic reporting system, providing accountability and transparency. Smart contracts could conceivably be written to automatically prepare business and corporate tax returns to ensure tax compliance for clients.
SwissBorg ICO Information
| | |
| --- | --- |
| Token Symbol | CHSB |
| Token Type | ERC20 |
| Blockchain Platform | Ethereum |
| Crowd sale Opens | December 7, 2017 |
| Crowd sale Ends | January 10, 2018 |
| Hard Cap for Crowd sale | 50,000,000 CHF |
| Total Token Supply | 1,000,000,000 |
| | |
Each CHSB token gives each token holder the right to receive 25% of SwissBorg revenues. Based on an audited quarterly report, all CHSB Token holders will receive a payment in ETH according to smart contract pre-programmed rules.  As soon as C-Share technology (or equivalent) will be ready to operate, each CHSB Token holder would be entitled to receive SwissBorg C-Share in exchange for CHSB Token.
Shortly after the ICO, the CHSB token will be exchange traded.
SwissBorg Links
SwissBorg Social Channels