CEDEX is a revolutionary new Blockchain-based global diamond exchange with an official launch planned in the third quarter of 2018. The innovative concept of CEDEX brings together crypto- financial markets and the diamond industry, opening up an exciting new channel of investment for the public. CEDEX was founded by an innovative team of specialists across many disciplines, including technology, finance and diamond trading. Together they have created the world's first transparent and secure public trading platform for diamonds.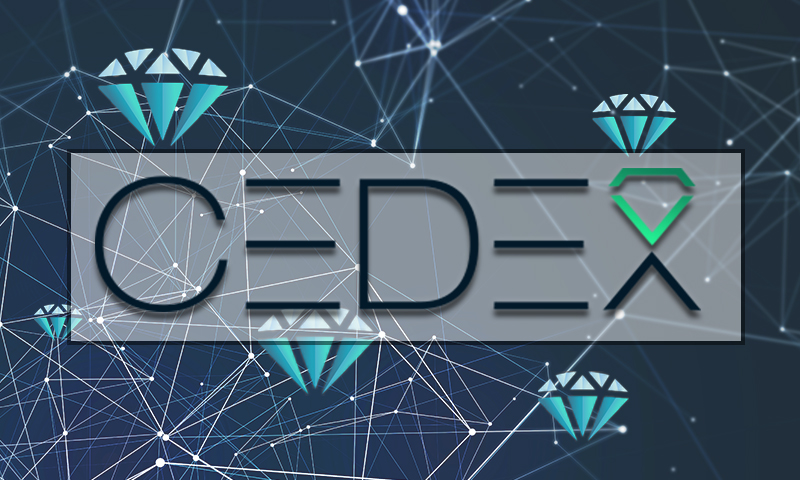 The promise of this venture was quickly noticed by TechFinancials who became a 90% majority shareholder. TechFinancials is a public company listed on the London Stock Exchange. Apart from financing CEDEX, TechFinancials resources, workforce and experience are at the disposal of CEDEX.
Throughout history, diamonds have not only been a symbol of wealth, but they have increased in value, withstanding any outside economic influences. To the public at large, diamonds have primarily been a retail item, bought as accessories and signs of affection. In fact, over 95% of the global diamond trade is consumer retail-based, with investment largely overlooked. There have been many obstacles in the way of public trading of diamonds, namely:
-Differing individual values of each diamond. Much like a fingerprint, each diamond has unique characteristics making bulk pricing impossible.
– Current diamond exchanges are business to business (B2B), purposely excluding the public.
– There has been no platform made available to the public with enough liquidity to sell diamond assets at a reasonable price.
A recent advancement in the CEDEX development has been the powerful partnership formed with IDEX (International Diamond Exchange), the world's premier online diamond exchange. ()
No other online diamond exchange has both the wealth of experience and widespread acceptance of the industry. IDEX boasts over 7000 professional diamond traders as regular users and an enormous supply chain inventory. Furthermore, they have set the industry standards in regard to pricing of diamonds.
Founder and Chairman of IDEX online, Ehub Cohen commented: "We believe that the diamond industry stands to gain by connecting with CEDEX B2C offerings, vision and trading models'".
Methodological advice, together with inventory and diamond suppliers' data will be shared, ensuring liquidity in the CEDEX market from the first day of trading.
For the first time, CEDEX will empower the public and enable them to invest safely and transparently in diamonds. With a precise valuation of the assets in place, no previous experience in diamond trading is even needed. Furthermore, the investment potential is clearly evident:
Already the global demand for diamonds is predicted to outstrip the supply by over 40 million carats by the year 2022.
A whole new influx of investors will be able to trade in diamonds transparently with CEDEX which should ensure the price of diamonds remains on an upward trajectory.
The emerging middle-class markets in both India and China will continue to drive demand.
The proprietary technology behind CEDEX is a self-learning algorithm called DEX which is designed to combine both the diamond trading and crypto-financial markets.
The primary functions of DEX include the Gemmological composition of each diamond listed on CEDEX, together with global inventory data and the financial indices of the Diamond Market.
DEX's artificial neural network technology makes full use of all given diamond data. A beta version of DEX can be found on their website – here you can even get an immediate theoretical price for any GIA Certified diamond. DEX is able to rank diamonds according to investment value, which will be an invaluable tool for new traders.
The actual process of either purchasing or liquidating diamond assets will be a user-friendly one with CEDEX. The initial languages supported will be English, Russian and Japanese. For an individual or diamond dealer wishing to sell their diamond assets, the first step is to create a smart contract. This is done using the simple CEDEX tokenization onboarding process. The sale can be of one diamond, a diamond bundle or a shared investment of diamond assets. Only GIA (Gemmological Institute of America) certified diamonds are permitted to be traded on CEDEX, thereby ensuring the valuation is correct.
After an online valuation, the diamonds are physically compared to their GIA certificate, then validated and stored. All diamonds are kept safely by a custodian. After the approval process, a Diamond Token is generated using blockchain technology and the owner's wallet is credited with the token. The seller can then either list his diamond token on CEDEX or sell to another user directly. A purchaser of diamonds will need to stock their wallet with enough CEDEX Coins to purchase their diamond of choice. Following purchase, the assets can be delivered or stored for them if they wish to trade further. There are nominal charges for listing a diamond and a small transaction fee per trade. Only CEDEX Coins can be used to purchase the diamonds on offer.
The CEDEX Coin will be an ERC-20 compatible coin, which will be traded over the public Ethereum network. The CEDEX Coin will be listed on all major exchanges and transferable to any currencies listed on them (both crypto and fiat). CEDEX Coins can be stored in any ERC-20 compatible wallet, however, it is recommended they be stored in an offline cold storage solution.
Pre-sale of the CEDEX Coin begins on Friday, 12th January at 19:00 GMT. The minimum purchase is 1 coin (valued at 1ETH), while there is no maximum amount. Users will be able to buy CEDEX Coins with Bitcoin, Bitcoin Cash, Ether and many fiat currencies. Pre-sale registration is available on www.cedex.com. The amount of CEDEX Coins is limited to 100 million tokens of which half will be offered. Any offered tokens which are unsold will be destroyed.
With the support of both a publicly traded company and a premier diamond exchange, CEDEX is bound to hit the ground running. Not only is CEDEX an exciting prospect for those looking to trade in diamonds as an asset, but the CEDEX Coin itself may become a lucrative investment.
A solid foundation and tangible product are what so many Initial Coin offerings are lacking, but in the case of CEDEX, these are its strongest selling points.
For more information, visit Cedex.com