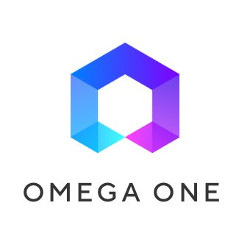 By building out the investment architecture of natively digital asset markets, improving their viability ​and ​helping ​to ​shape ​the emerging ​financial system, Omega One's trade execution platform will reduce barriers to capital flow into and between crypto assets, improve the efficiency and viability of the emerging crypto economy, reduce market volatility, and ​enable ​development ​of ​more ​sophisticated ​capital ​allocation ​structures.
Omega One ICO – The Opportunity
Despite massive growth in crypto markets, exchanges and other market intermediaries remain illiquid, fragmented, costly to trade, and open to theft by hacking.  Today, there are three fundamental limitations to trading in crypto markets:
Lack of Liquidity: Currently the lack of functional liquidity causes the realized costs of trading to be often many times higher than published commissions and fees. Omega One will provide enhanced liquidity by offering a private dark pool and trading algorithms connected to all the world's crypto exchanges.
The Liquidity vs Security Trade-off: The most transparent and accessible liquidity in crypto markets is on centralized exchanges, which carry investor funds in commingled accounts that are susceptible to hacking. Omega One will provide enhanced security by intermediating between blockchain wallets and on- or off-chain exchanges with their own balance sheet, shielding members from risk.
Lack of Transparency: Not only are liquidity costs high in this asset class, many participants do not even realize that they are paying liquidity costs many times greater than explicit commissions and fees. This is a barrier for institutional investors who trade on behalf of clients, and provide "best execution" reporting. Omega One will provide enhanced transparency by providing benchmarking and analytics of transaction costs to members, to allow them to audit the market impact of trading.
Collectively these issues create inefficiencies in market, making them susceptible to volatility and create barriers to entry for institutional investors and traditional asset managers – whose presence will take the crypto markets to the next level of maturity and enhance transactional liquidity.
Omega One ICO – The Solution
Omega One solves these issues by providing traders, investors and institutions with a decentralized automated trade execution system that intelligently implements their trades across the world's crypto exchanges, shielding them from counterparty risk and reducing their costs of trading.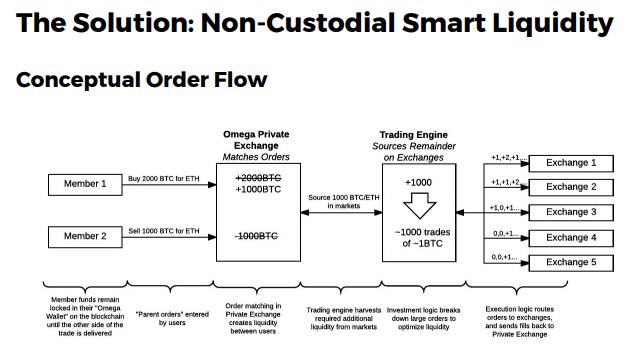 Omega One's decentralized, automated trading intelligence interfaces between crypto exchanges and blockchains, using their balance sheet to enable members to realize liquidity many times greater than available directly in the market, by both generating liquidity within the platform and breaking larger orders into small pieces that are placed across all market venues simultaneously.
Omega One will use a crypto-economic model built around an Ethereum token ("OMT") to provide access to these services, where higher balances of OMT allow members access to preferential liquidity treatment and discounted trading.  Sales of OMT will fund the Omega One balance sheet, which will be deployed to shield our members from counterparty risk on exchanges, settlement delays on blockchains, and other risks of trading in these immature markets.  By solving liquidity and trust problems, foundational requirements for any financial system, Omega One will reduce barriers to capital flow into and between crypto assets, smoothing volatility, and improving the viability of the emerging crypto economy.
The platform architecture is illustrated below:

The ​Omega ​platform ​will ​provide ​a ​set ​of ​services including:
Cryptocurrency ​Trading
Portfolio ​management, ​reporting ​and ​analytics
Tax ​and ​accounting ​features
Transaction ​cost ​analytics ​and ​other ​trading ​data.
These ​services ​will ​be ​offered ​on ​a ​tiered ​basis, ​with ​higher ​levels ​of ​service (Bronze, ​Silver, ​Gold, Platinum, ​etc.) ​available ​to ​members ​with ​higher ​OMT ​balances. ​In ​order ​to ​access ​these membership ​services, ​and ​the ​additional ​benefits ​listed ​below, ​tokens ​may ​be ​required ​to ​be locked ​up ​for ​a ​given ​duration. Every ​time ​a ​member ​uses ​the ​platform ​to ​trade ​between ​one ​asset ​and ​another, ​they ​will ​be charged ​a ​trade ​execution ​fee ​as ​a ​percentage ​of ​trade ​size.
Omega One Initial Coin Offering (ICO)
Token Symbol:                                    OMT
Token Type:                                        ERC20, utility token
Blockchain Platform:                          Ethereum
Crowd sale Opens:                            To be announced
Token Usage Benefits
Membership: To gain access to the platform, a member must have a minimum OMT balance. Higher balances will give access to premium levels of service.
Fee Pyament Trading fees can be paid with OMT, at a discount to normal rates
Execution Priority The size of a member's OMT holdings will impact their execution priority, resulting in faster execution nad lower liquidity costs
Discounted trading Large OMT balances provide further discounts to trading fees
Omega One Links:
Omega One Social Channels: