ETH Too Expensive? There's a Solution: easyMine!!
The recent fluctuations of the cryptocurrency market have caused quite a stir. The price of Etherium (ETH) has increased by more than 2300% percent over the past six months. At 200+ USD per unit, more and more people are finding it simply too expensive to buy. If you count yourself among their numbers, this may be a good time to start considering getting your ETH the old-fashioned way…
That's right. You can mine your own.
Mining is not just a great way to earn a profit. It also allows you to actively contribute to the crypto community by helping maintain the integrity and security of the blockchain.Of course, as some will be quick to point out, cryptocurrency mining isn't exactly the easiest thing to get into. The difficulty isn't even in obtaining the right hardware—pre-built mining machines are available and becoming increasingly more common. It's everything that comes next that proves to be the real challenge.
First, how do you configure everything for best efficiency?
Second, what software do you install?
Third, which mining pool do you join?
Fourth, which currency should you mine?
Fifth, how do you monitor your rig and keep it running?
And so on, and so forth.
There's good news, though. Soon, all of these problems may be a thing of the past—thanks to easyMINE. A complete software platform for cryptocurrency mine management, easyMINE consists of four main components:
The easyMINE Operating System (eMOS): Everything you need to mince cryptocurrencies in a single, convenient package. It's pre-configured and ready to run, no manual setup required. Just download it to a flash drive, plug the drive into your mining machine, and boot it up.
Online service: The heart of the platform, responsible for configuring and controlling your mining machine. It will automatically test your equipment, handle all the setup procedures (including BIOS flashing and overclocking!), and find optimal operating parameters. What's more, it will continuously monitor the equipment and, thanks to advanced AI algorithms, keep it running at peak efficiency under all circumstances.
Web-based management dashboard: The dashboard allows you to remotely control your mining machines from anywhere in the world. You can see all the equipment in your mine, its location, current status, and operating history. Adjust any settings manually, or let smart algorithms do it for you. The system will run a simulation and show you the expected results, so you can make an informed decision. You will be able to evaluate
the profitability of your mine at a glance, no matter if you own just one machine or two hundred of them.
Mobile application: With a dedicated app, your mine will always be at your fingertips.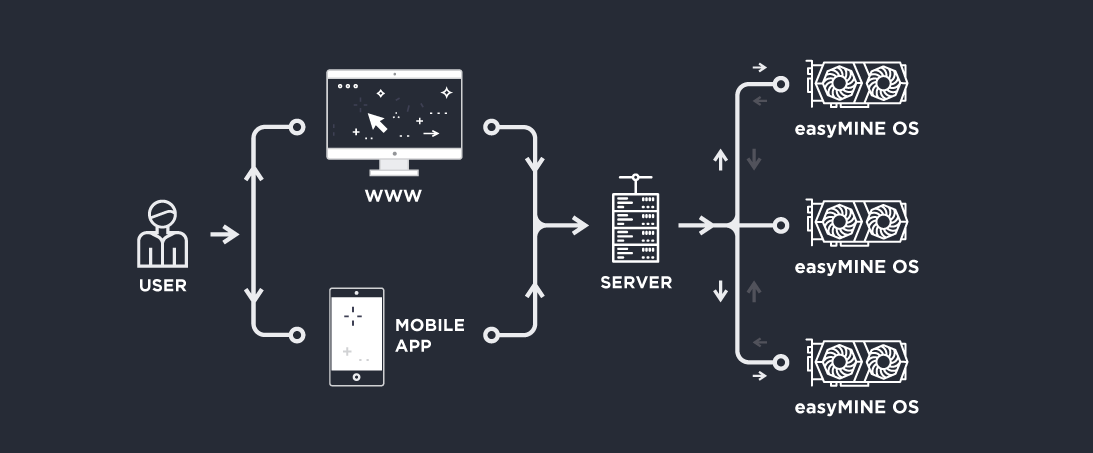 It's not a fantasy. The system is already in private beta, with open beta-testing set to commence soon.
At the moment, the easyMINE team are preparing to launch their Initial Coin Offering. easyMINE tokens (EMT) are scheduled to go on sale on August 10.
More information is available on the project website at https://easymine.io/