Dmarket ICO – Making Virtual Assets Real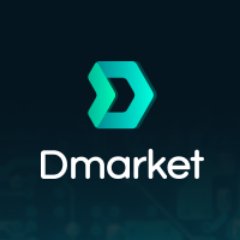 Dmarket is a global marketplace solution that turns every virtual asset or item into a real commodity. Combining blockchain technology and smart contracts through their API, Dmarket is a new ecosystem where gamers, developers and entrepreneurs can efficiently and securely evaluate and trade virtual items, thus monetising time and effort spent playing games and creating a new multi-billion-dollar trading economy.
Dmarket ICO – The Opportunity
2.3 billion people play games every day on different platforms and devices.  Gamers collect virtual goods, such as new armour, a fancy car or a pile of crystals.  These virtual assets have no value outside of the game, platform or device on which they have been earned.  There is currently no way to trade these virtual assets among gamers or between games globally.  Game universes are not connected to each other, which means there is no simple secure way to trade between them, and no reliable way to approve these trades.
Historically it has not been possible to build bridges between game engines, global and independent game developers, and the mobile and console worlds. More than 70% of the 15 million games sold in the last 5 years are 2 or more years old. There are currently thousands of game universes, where people can potentially trade and exchange digital items; however, game developers have not been able to create local trading markets for each game.  Additionally, Gamers possess rare items, fancy items, memorabilia items, which are in high demand, but cannot be traded to other due to technology barriers.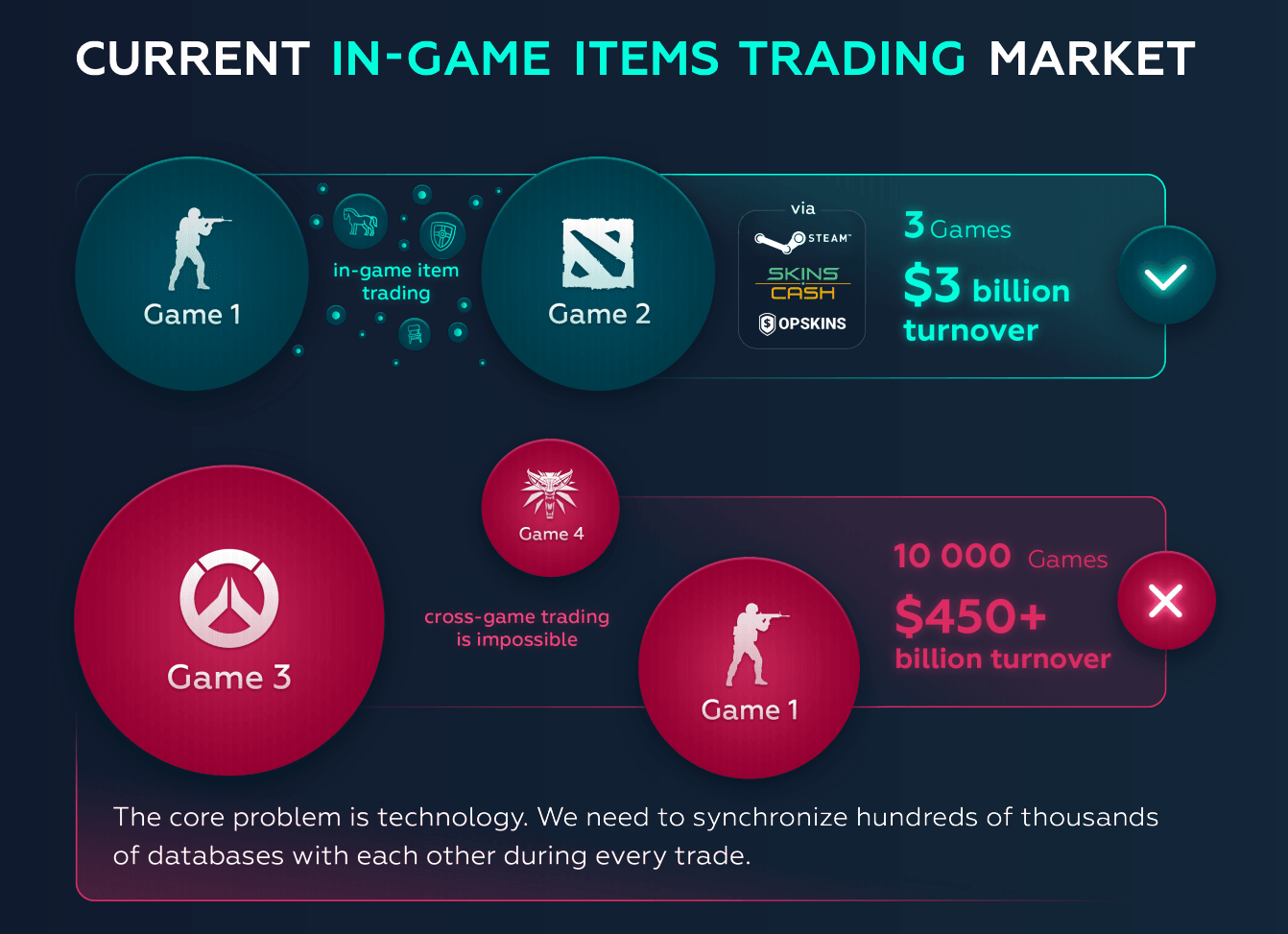 Dmarket ICO – The Solution
Dmarket is the solution that links gaming universes together and creates a global marketplace for virtual assets based on blockchain and smart contracts.  The platform enables one-click sale, exchange or evaluation of every virtual item between all games on any platform. Smart contracts on the blockchain connect all game worlds and universes without any third party needed. Dmarket logs changes of ownership and automatically transfer payments.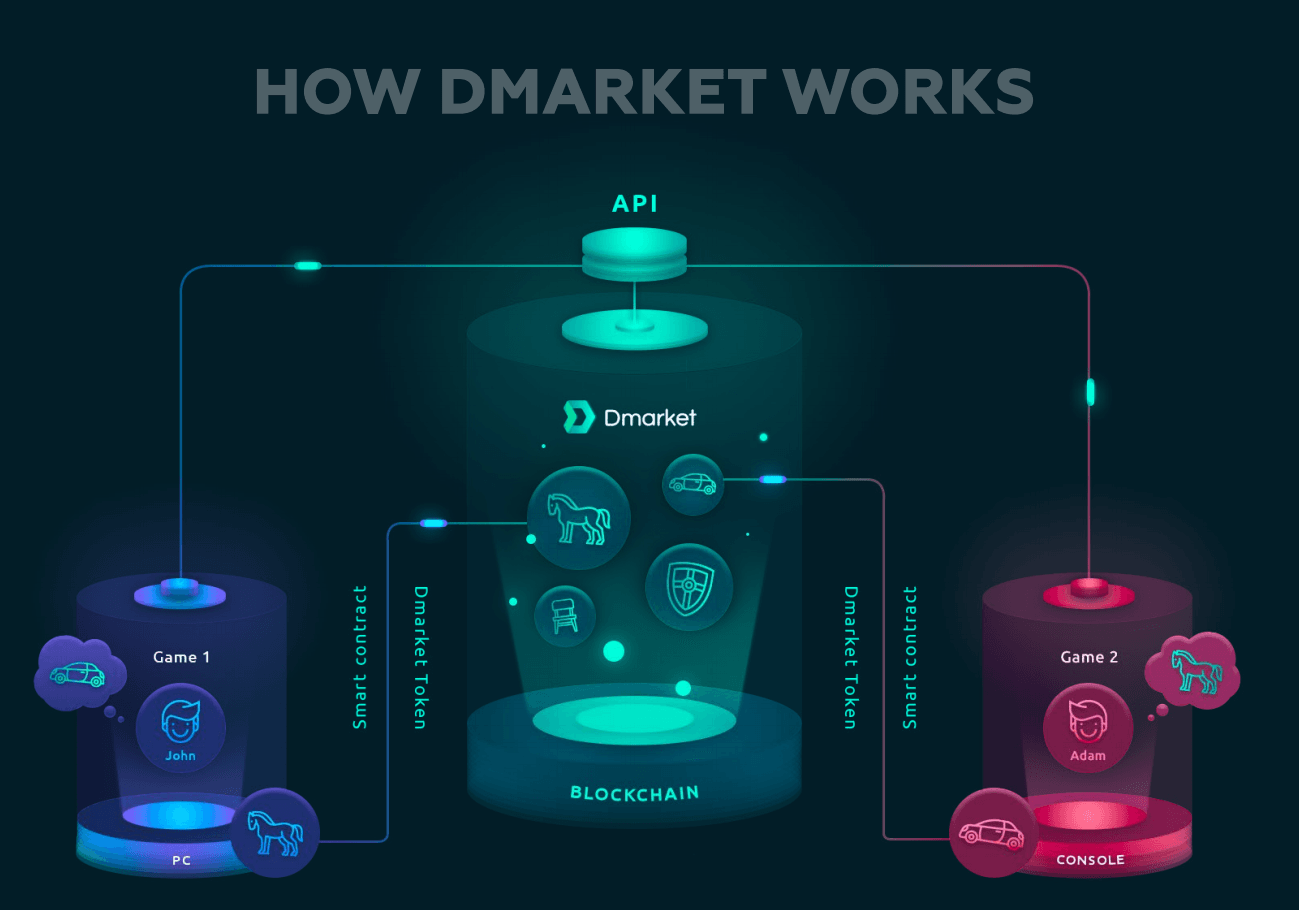 The Dmarket platform benefits all parties within the ecosystem.
For gamers, Dmarket creates the opportunity to monetise their time, skills and luck.  Gamers will be able to perform easy one-click buy/sale, exchange and evaluation of every possible game asset, item, skin, design or mod. Each Dmarket user will be allocated an automated wallet to preserve all data in our decentralised database and interact with other users, utilizing smart contracts to verify transactions. The wallet will have the following features:
Token crediting/deductions during acquisition of in-game items;
Keep of record of transaction fees (no more than 5%);
In-game item crediting/deduction (during the in-game item transaction);
Collect transaction data which will influence platform development.
For game developers, Dmarket API is a ready-to-use solution for giving value to any digital item, whether it is skins, gems or other items, as well as monetisation. Dmarket will open integration to most games on the market as well as adding custom engine support (the choice of the next engine will depend on the audience and community vote).  Dmarket is also working on a mobile solution for iOS and Android. Dmarket will add value for game developers through:
Marketing and general audience increase through supporting games and publishers.
Increased revenue as fees from every exchange of intellectual property can be quantified through game item transactions.
Increased lifetime value for games as gamers naturally spend more time in the game hunting for items. This will also ignite a sort of mining rush to farm or trade virtual items for profit.
Dmarket will also offer a bounty program for game developers and publishers.  Up to 18% of the Dmarket funds attracted by token sale will be spent to incentivise the creation of business models by developers and publishers for in-game items stored on Dmarket. Dmarket's global decentralized platform will provide game developers and decisionmakers with a new stream of recurrent revenue, generating increase lifetime value through trading fees from virtual items on the platform.
The Dmarket Token is the only currency used in the marketplace.  Dmarket coin can be used for the following purposes:
As a currency for buying or selling in-game items;
Delivering the sales commission to the owners of the rights on digital property;
Buying premium accounts for wholesale and individual sellers;
Purchasing Big Data analytics.
Dmarket Initial Coin Offering (ICO) Information 
| | |
| --- | --- |
| Token Name | DMarket |
| Token Type | ERC20 |
| Blockchain Platform | Ethereum |
| Crowdsale Opens | November 14, 2017 |
| Crowdsale Closes | November 28, 2017 |
| Pre-Sale | Complete |
| Token Sale Hard Cap | circa $20,000,000 |
| Token Exhange Rate | 1 ETH = 750 Dmarket |
| Total FLU Token Supply | 100,000,000 |
| | |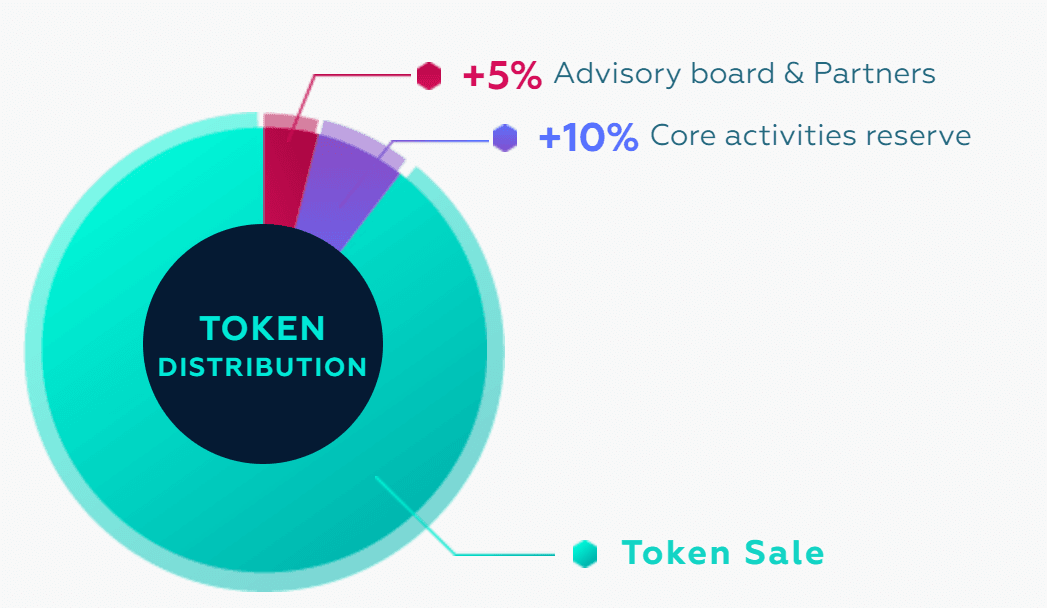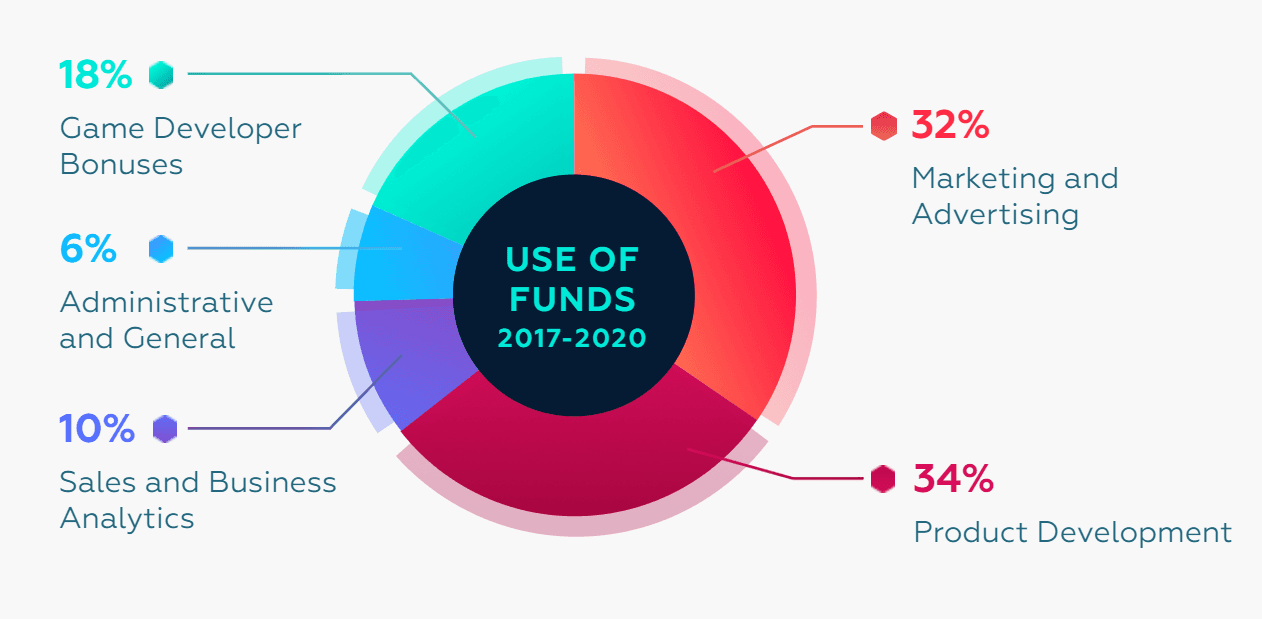 After the token sale is closed, 10% of the total token amount sold are issued and reserved for Dmarket's core activities, and 5% is reserved for Dmarket advisory board and partners. The Dmarket Tokens will be sent to the User's registered cryptocurrency wallet by the end of Dmarket Tokens Sale in November 2017.