The CoinJanitor platform aimed at assisting the crypto-community by providing a liquidity solution for trapped and valueless token assets. By doing so, it hopes to restore lost value to the crypto-economy and encourage more investment and growth.
The Problem

In recent years, thousands of ICO projects have launched with most disappearing as their platforms fail to meet expectations. As a result, over 4,500 cryptocurrencies exist on the market, with only 1,400 of these providing sufficient trade volume to appear on CoinMarketCap. Even then, only about half of these are tradable, thereby effectively rendering about 85% of all cryptocurrencies valueless. With crypto-markets capping over $250 Million USD, this is a huge loss of capital for both project owners and crypto-hodlers.
The Solution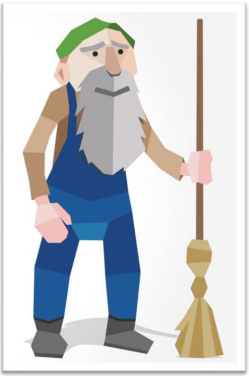 The CoinJaintor Platform aims to provide token holders with the opportunity to exchange their defunct coins for bitcoin and other more mainstream crypto currencies by means of the CoinJanitor token (JAN).
How it works
CoinJanitor has already profiled and assessed over 4,500 cryptocurrencies according to criteria such as their trade volume and functionality, and then assessed which of these tokens are still viable.
Once identified, CoinJanitor plans on approaching the project owner with an offer of cooperation for the sake of restoring some value to their tokens.
The owners and CoinJanitor will then approach all token holders with the option to exchange these tokens for JAN.
These Jan can then be traded for BTC and other cryptocurrencies on exchanges, and the other tokens will be destroyed.
Profits will then be used to form more partnerships.
Further Advantages
By destroying the exchanged coins, CoinJanitor will also be increasing the value of existing coins.
All coins to be decommissioned or destroyed will be done through the community consensus of that specific coin.
Trapped capital will now be directly freed for reinvestment in the crypto-market.
CoinJanitor plans to focus on unlisted and 'dead' coins that are at least two-years-old for now, so as to develop a positive reputation among hodlers. Furthermore, it would like to avoid potentially causing market disruptions.  In addition to this, while the JAN token's functionality will initially be limited to token swaps, the CoinJanitor Platform does hope to implement further utilities at a later stage. As far as
This project is certainly unique, but as far as I can tell, the value of the JanitorCoin Platform will depend upon its popularity and success among these demographics, which holds true for many projectsThe team itself acknowledges that they will need to successfully clear up at least three project within the first few months of launching in order to prove its worth in the crypto-space, so it will be interesting to see whether this project will succeed.
CoinJanitor Platform's ICO Main Sale Details
Total Supply                            100 Million JAN
Platforms                                 Ethereum
For Sale (Private Sale & ICO) 50 Million JAN
Price                                        1 JAN = $0.07 USD
Hard Cap                                 $7.5 Million USD
Payment                                  ETH, BTC, Fiat, LTC, BCH, BTG and XMR
Start Date                                May 1, 2018
End Date                                 May 31, 2018
Links & Social Channels