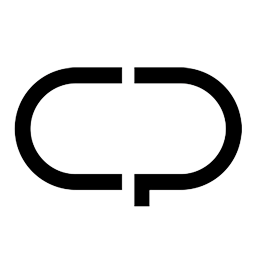 The Cash Poker Pro ICO will introduce the CASH Token that will power the Cash Poker Pro (CPP) decentralized poker room. CPP's goal is to become the first successful poker room based on blockchain technology. As CPP states in their whitepaper:
"Cash Poker Pro Poker Room is a modern online platform built as a multilevel system of poker rooms which uses a decentralized platform for monitoring the operation of a pseudorandom number generator (PRNG) and a system for fast deposit and withdrawal of funds with blockchain-based authentication."
Cash Poker Pro ICO – The Opportunity
The online gambling industry has been growing at a rapid pace and according to H2 Gambling Capital (www.h2gc.com), the global income from the proceeds of online gambling amounted to USD 44 billion in 2016.
There are many challenges that face users of the traditional online casinos including:
Inability to withdraw funds for various reasons:

Insufficient betting to "earn" their withdrawal rights
Their deposits are claimed to not have been made, which often is hard to prove.
Winners are often accused of cheating.

Online Casinos use payment solutions like electronic wallets and bank transfers

These are subject to jurisdictional restrictions due to legislation
Results in high deposit fees needed by casinos to cover this exposure.

Lack of segregation of funds.

Casinos can use cash from deposits to further business needs and growth leaving a bankroll significantly lower than player balances, leaving the players at risk.

"One of the most significant problems is the fact that online systems use centralized random number generators which are susceptible to external influences. In other words, the owner of an online system can influence the gaming process and its results because they have access to the server and the program code, which causes mistrust on the part of users. Users who make huge bets become particularly vulnerable in this situation." (*from WP)
Cash Poker Pro sees an opportunity to address these issues by use of decentralized blockchain to make the workings of its poker room transparent through the use of smart contracts with all terms and information available to the marketplace.
Cash Poker Pro Solution
Using a decentralized blockchain solution, the majority of the issues above are easily solved.  As all transactions between the anonymous player and the casino are recorded on the blockchain, there is no confusion as to what has taken place. As there is no centralized information, at this time legislation and regulation is not an issue with cryptocurrency transactions and deposits should be faster and withdrawals should not be a problem.
Regarding random card dealing, CPP states:
"Using the blockchain technology in our platform for poker rooms, we will make information about card dealings available to any user, which means that anyone will be able to check if cards are dealt randomly and there is no influence on the part of the casino."
It is best stated by the mission identified in the whitepaper by CCP as follows:
"The mission of our project is to give any person a chance to anonymously compete against other players on equal terms and to create our own online poker room based on the CPC Poker Room platform using a decentralized platform for monitoring card dealings and a system for fast deposit and withdrawal of funds with blockchain-based authentication."
Who is Cash Poker Pro?
The team that brings Cash Poker Pro to the blockchain are not new to the traditional casino and online gambling market. The Company, Travaron Media owns a registered trademark and other objects of intellectual property. They have already created several successful products for offline and online markets.
Through continued innovation in these markets, CPP has identified a new untapped niche to bring players straight to their platform.  This is the "Messengers". "The most popular messengers are multifunctional messengers with reliable data security. The primary objective of our project is to bring an online poker room for messengers (WhatsApp, Telegram, Facebook) to the market. In June 2017, Telegram announced the launch of its own payment system. This gives online game designers the opportunity to monetize their projects. This is an unoccupied niche, which gives start-ups like ours a chance to find customers among more than 100 million users."
Integrating te CPP platform with messengers will open the platform to an immediate audience and allow them to grow a player base at a rapid pace.
Cash Poker Pro ICO – Token Proposition
The CASH token will have the following capabilities and functionalities:
Available through internal exchange integrates into the digital wallet.
Purchasable through FIAt and Cryptocurrencies like BTC, ETH, Waves and more.
Ability to create own poker rooms.
Use to play against the casino and other token holders.
Instant withdrawals from the platform and exchange for other Cryptocurrencies and FIAT.
Cash Poker Pro ICO Details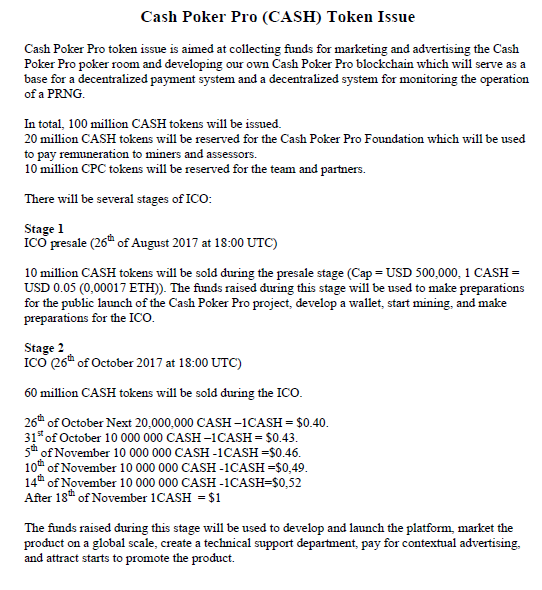 Resources
Social Resources
Twitter
Medium
Facebook
Instagram
Telegram