AirToken will enable billions of offline and pre-paid mobile subscribers in emerging markets to have access to capital for both data, the fuel of the smartphone, and eventually digital and physical goods within the mobile ecosystem. Their vision is a world where anyone with a smartphone can enjoy unrestricted access to the internet.
AirToken ICO – The Opportunity
Mobile internet is not affordable and accessible for the majority of the world's population. 4 billion people, about 60% of the world's population, are still not connected to mobile internet and remain offline. Lack of affordability prohibits the majority from having unlimited access to the internet and the mobile ecosystem. For the 3 billion pre-paid mobile subscriptions in emerging markets, cost of data remains the biggest constraint on usage and internet access. Over 2 billion people do not have access to a bank account, but they do have an account with their mobile carrier.
To make matters worse, the default mobile ecosystem (trackers, apps and advertisers) consumes up to 50% of the average user's mobile data for ads and trackers, which can cost as much as $23 a month. Not only is mobile data expensive, but also the mobile ecosystem itself is an extra invisible burden on the affordability of the internet. A user buying 500MB of data may only get 250MB of true access.
AirToken ICO – The Solution
AirFox's vision is to make the mobile internet more affordable and accessible and the biggest limitation for our customers is access to capital. AirFox is positioned to expand access to mobile data, benefitting advertisers, users, and carriers, using the blockchain.
AirFox uses advertising and peer-to-peer token spots on the blockchain to unlock unrealized access to mobile data through a new cryptocurrency – The AirToken ("AIR"). AIR technology harnesses the decentralized power of the Ethereum blockchain using a digital ledger of the user's mobile phone data as well as advertising and proprietary "return-grade" algorithms to reward and provide users with access to mobile data using AIR.

The 4 pillars of mobile accessibility are:
Mobile Sponsorship: Users earn free mobile internet by engaging with advertisers via the AirFox Browser application and receive periodic "free" mobile internet passes from select sponsors based on quality of user scoring.
Mobile Efficiency: AirFox Browser enables consumers to use their smartphone the most efficient way possible, hedge data negotiations (buying in bulk, timing, spectrum capacity etc.) with wireless carriers, and create the perfect plan/recharge for the right subscriber.
Mobile Decentralization: AirFox users can purchase mobile data for themselves or send mobile data and AIR to other users.
Mobile Blockchain Use: The goal is to expand AIR into a widely used token beyond mobile data, reaching across apps, websites, advertisers and mobile commerce. Most users lack bank accounts, but they do have wireless cell-phone service and AIR can enable commerce for these unbanked consumers.
AIR tokens are redeemable for mobile data, and, eventually, physical and digital goods. AIR utilizes the user's smartphone to reward the user for attention and good behaviour while expanding the pie for the entire ecosystem that wants to further maximize on this audience (carriers, publishers, and advertisers).  AirFox's free Android app, AirFox Browser, enables any prepaid mobile subscriber on Earth to earn AIR. Users are rewarded in AIR for every ad impression on their device. Users can then exchange those AIR for mobile data or use them to send mobile data to others via 3.5 billion prepaid SIM cards and over 500 wireless carriers.
AirToken Initial Coin Offering (ICO)
| | |
| --- | --- |
| Token Symbol | AIR |
| Token Type | ERC 20 |
| Blockchain Platform | Ethereum |
| Total Token Supply | 1.5 billion AIR |
| Crowdsale Opens | October 5, 2017 |
| Crowdsale Ends | 31 days later or when the total token supply has been minted. |
| Crowdsale Hardcap | USD$21,000,000 |
| Pre-ICO | Completed raising USD$6,000,000 |
| | |
The "Bonus Tranches" will discount AIR, which increases the number of AIR for 1.00 USD equivalent in ETH, according to the following formula:
Tranche 1: $0 to $2 million, 65 AIR per 1.00 USD equivalent in ETH
Tranche 2: $2 million to $4 million, 60 AIR per 1.00 USD equivalent in ETH
Tranche 3: $4 million to $8 million, 55 AIR per 1.00 USD equivalent in ETH
Standard Tranche: $8 million to $15 million, 50 AIR per 1.00 USD equivalent in ETH (no bonus)
Token Sale Terms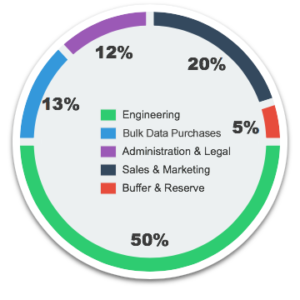 Soft cap on crowdsale: $15 million
50% Current and New Engineering Team
20% Sakes and Marketing
13% Bulk Data Purchases
12% Administration and Legal
5% Buffer Reserve
Token Sale Bonus
$0-$2m 30%
$2m-$4m 20%
$4m-$8m 10%
$8m+ No Bonus
AirToken Links
AirToken Social Channels