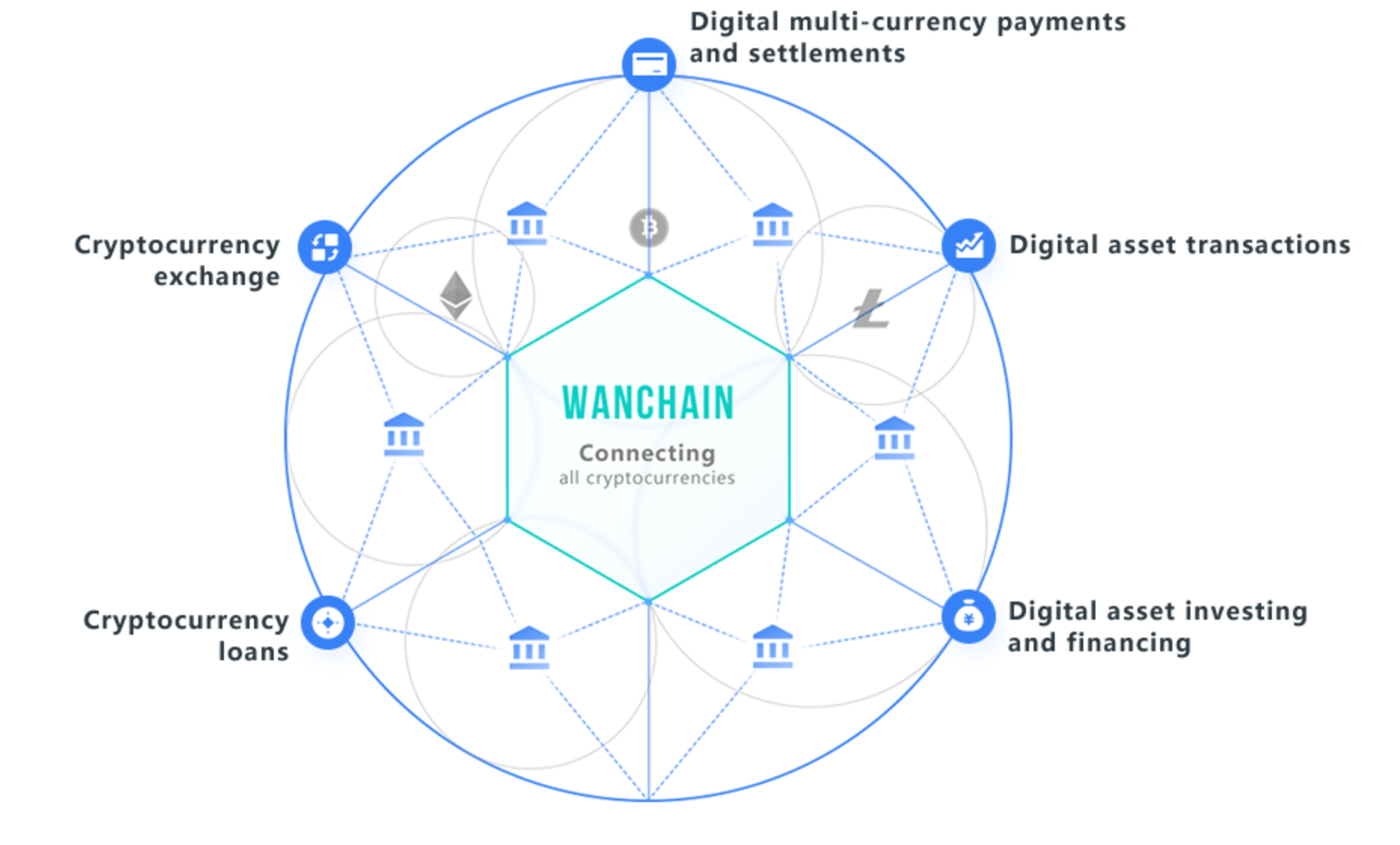 The Wanchain ICO introduces Wanchain that aims to be the Internet of "blockchain", linking different digital assets, connecting the present and future.
Wanchain connects and exchanges value between different blockchain ledgers in a distributed manner. It uses the latest cryptographic theories to build a non-proprietary cross-chain protocol and a distributed ledger that records both cross-chain and intra-chain transactions. Any blockchain network, whether a public, private or consortium chain, can integrate with Wanchain to establish connections between different ledgers and perform low-cost inter-ledger asset transfers. The Wanchain ledger supports not only smart contracts but also token exchange privacy protection.
Wanchain ICO – Opportunities
Cross-Chain Asset Transfer:
Connect existing major digital currency networks (such as Bitcoin and Ethereum) and completing the asset exchanges without modifying the mechanism of original chains. This integrates newly generated digital currency networks with Wanchain at a very low cost.
Integrate consortium chains with Wanchain This fulfills the functions of transferring assets from original chains to Wanchain, transferring assets from Wanchain back to the original chains, and trading various assets on Wanchain. ·
Ensure the security of cross-chain transactions and the stability of cross-chain transaction services.
Transaction Privacy Protection:
Allow trading parties to choose to conduct transactions with privacy protection. ·
Provide privacy protection for transfers and exchanges of digital assets.
Provide anonymous protection of digital asset holders.
Functional Extensibility:
Become a distributed platform for the exchange of various digital currencies. ·
Carry out deposit and loan business for different digital currencies. ·
Conduct transactions of digital assets using digital currency as a medium.
Issue and trade brand new digital financial assets.
From a technological perspective, Wanchain creatively solves the transaction problem of cross-chain transfer between different blockchain accounts in a distributed network. A key goal is to solve the problem of asset transfers in different blockchain accounts by using wider-scope blockchain technology. At present, most cross-chain transfers of blockchain assets use a centralized method, such as a centralized exchange. Users who give up control of their assets face great risks. Exchanges also bear the risk and responsibility of securing the accounts and managing all the users' assets.
From an application perspective, a digital currency transaction is only one of the use cases. When traditional banks were first formed, they converted currencies as their core business and then gradually developed services such as saving accounts, financial planning, and investments. The continuous increase in the types of digital currency means that more of the wealth in the global economy is represented by digital currency. Demand for debit and credit, payment settlement, and investment and derivative products will increase. A rudimentary foundation for digital currency is in place, and it will continue to grow and mature.
From another application perspective, as blockchain technology gains greater attention, traditional assets are trying to implement blockchain financial methods, such as commercial bills. Blockchain cross-chains has become the account book that records traditional asset transactions. Mutual correlation and wealth transfer between these account books are also demanding we cannot neglect.
From a commercial viewpoint, any revolutionary technology gives birth to a corresponding brand-new commercial landscape. The development of the Internet leads to the rise of cross-region and cross-country e-commerce models, which shocked and changed traditional trading methods and even the organization of production. Digital currency assets based on blockchain will also give birth to brand-new financial commercial methods. More individuals and organizations will use the Wanchain network to carry out financial services and promote the development of Inclusive Finance in a more open and public way.
Wanchain Initial Coin Offering (ICO)
TOKEN NAME:ERC-20
Crowdsale Opens: September 6, 2017
Crowdsale Ends: September 27, 2017
Tokens for ICO: 210,000,000
The publicly offered digital tokens will be in the form of Wanchain ERC-20 tokens. Eventually, the ratio of online tokens and crowd funded tokens will be equal. The end of the ICO will be triggered by one of two conditions: 107.1 million tokens have been sold or the crowdfunding time limit is reached. At the end of the ICO, the smart contract will be automatically closed. When the Wanchain project goes live, participants can exchange their ERC-20 tokens in a 1:1 ratio for Wancoins.
The funds raised by the ICO will be used as follows: 60% for research and development, 10% for community development, 10% for marketing, 10% for business development and 10% for daily operations.
Wanchain ICO Links
Website: https://wanchain.org/
Whitepaper
Wanchain ICO Social Links
Twitter: https://twitter.com/wanchain_org
Slack: https://wanchain.herokuapp.com/
Facebook: https://www.facebook.com/wanchainfoundation/
Reddit: https://www.reddit.com/r/wanchain/
Weibo: http://weibo.com/wanchain